With current GPS Satellite Technology, combined with Cellular Technology, Apex Protect GPS can locate your vehicle in one of the widest ranges possible in the U.S. Nationwide GPS Recovery. Can locate your vehicle nationwide and into Mexico. You are covered 24/7 365 days a year, if your vehicle is stolen.
If Your Vehicle is Stolen, You Are Covered
When your vehicle is reported stolen, we spring into action and use GPS Satellites and numerous Cell Phone towers, (in the vicinity of your vehicle), to get an exact location. We then contact the local authorities and assist them with Real Time Location to find your vehicle.
APEX Coverage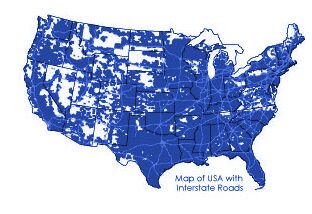 Competition Coverage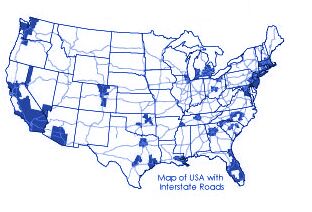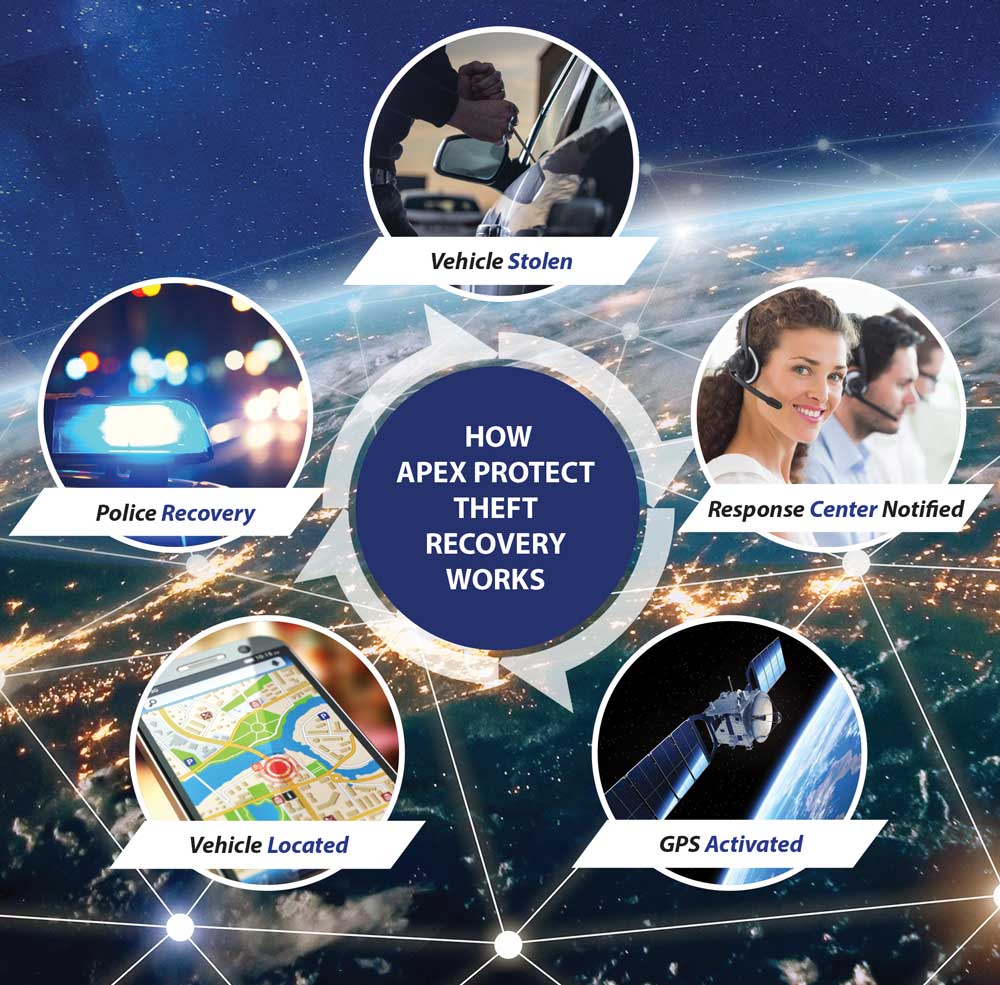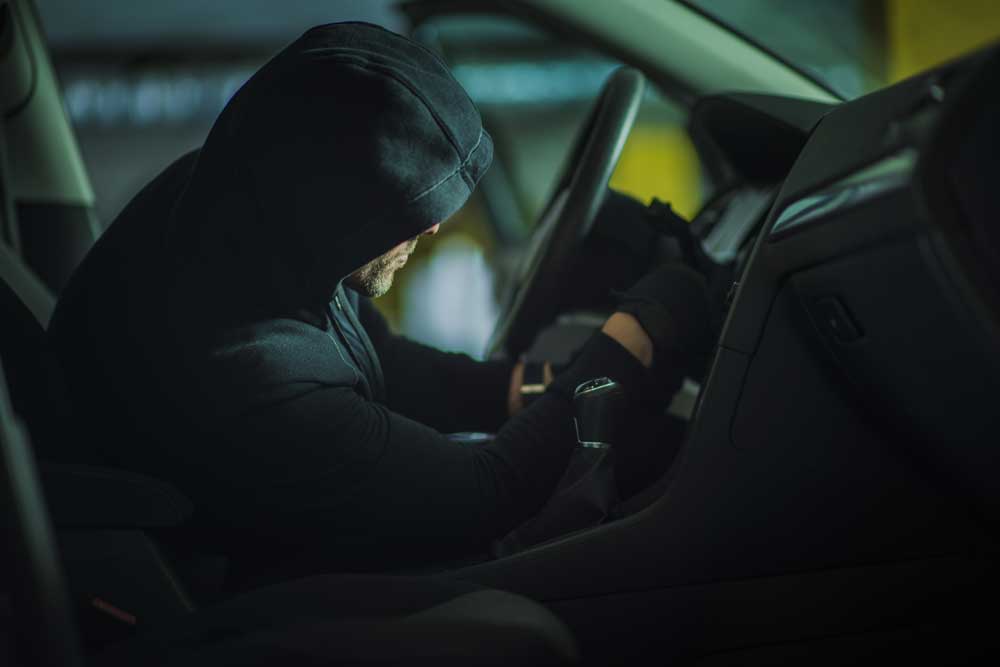 VEHICLE THEFTS NATIONWIDE SURPASS ONE MILLION FOR THE FIRST TIME SINCE 2008
Law enforcement agencies and communities across the United States continue to be plagued by record and near-record levels of vehicular crime as monthly theft totals nationwide consistently exceeded 75,000 in 2022.
According to a new analysis conducted by the National Insurance Crime Bureau (NICB), the insurance industry's association dedicated to predicting, preventing, and prosecuting insurance crime, more than 1 million vehicles were stolen last year, marking a 7% increase over 2021.
Vehicle theft data, provided by the National Crime Information Center (NCIC) and analyzed by NICB, indicates over 250,000 thefts were reported in the fourth quarter of 2022 alone. California and Texas led the nation with the most reported stolen vehicles in 2022. Illinois had the largest increase of any top 10 states, with thefts increasing by an estimated 35% between 2021 and 2022. Similarly, vehicle thefts increased by 31% in Washington state over the same period. Source
Follow the Money
Beyond the emotional stress and disruption to your daily and work related activities, there are significant financial costs that you may incur if your vehicle is stolen.
According to the FBI, although 75% of respondents know that there are costs associated with vehicle theft in addition to paying the insurance deductible and the cost of replacing the vehicle that are not covered by insurance, virtually none knew that there are additional costs such as insurance premium increases, the cost of time spent dealing with police, vehicle rental costs, and the cost of time off from work.
* The survey was conducted by Opinion Research Corporation.
The Most Popular Vehicles Stolen in 2021
Source: ValuePenguin analysis of NICB data obtained via the NCIC.
| Rank | Make & Model | Total Stolen in U.S. |
| --- | --- | --- |
| 1 | Chevrolet pickup (full size) | 48,206 |
| 2 | Ford pickup (full size) | 47,999 |
| 3 | Honda Civic | 31,673 |
| 4 | Honda Accord | 30,274 |
| 5 | Toyota Camry | 17,270 |
| 6 | GMC pickup (full size) | 15,599 |
| 7 | Nissan Altima | 14,108 |
| 8 | Honda CR-V | 13,308 |
| 9 | Jeep Cherokee/Grand Cherokee | 13,210 |
| 10 | Toyota Corolla | 12,927 |
The Types of Locations at Highest Risk
Living in urban and higher crime areas has an impact on your risk of being a victim of auto theft. Port and border cities continue to be boomtowns for the auto theft business. Of the top 25 metro areas in the nation for vehicle theft, nearly half are ports or communities with easy access to borders (*National Insurance Crime Bureau, or NICB). The NICB study compares the auto theft rates per 100,000 population in 380 metro areas.
City-by-city differences in auto buying habits are reflected in the preferences of auto thieves. For example, American vehicles tend to be the auto thief's vehicles of choice in Detroit and Chicago; pickups are popular in Albuquerque, Phoenix and Houston; and Japanese models lead the most commonly stolen list in Los Angeles.
Insurance Discounts that Matter
We all like to save money, and installing an Apex Protect GPS unit on your vehicle, is likely to get you a discount on your vehicle insurance.
According to the National Association of Insurance Commissioners, eleven states: Illinois, Kentucky, Louisiana, Massachusetts, Minnesota, New Jersey, New Mexico, New York, Pennsylvania, Rode Island, and Texas have regulations that require insurers to provide vehicle owners with discounts on the base rates for comprehensive insurance for vehicle locating and monitoring GPS devices. In the majority of other states, many insurers offer these discounts or are encouraged to offer them. When you notify your auto insurance company, be sure to tell your agent that you have a GPS Class I Monitoring Device that assists police with stolen vehicle recovery. Make sure they know that, in the event of a theft, your device comes with a 24/7/365 toll free stolen vehicle recovery assistant that will communicate directly with police to ensure rapid recovery of your stolen vehicle.
The Financial Impact of Car Theft
Insurance Deductible: $250 – $1000+
Never paid back by your insurance company
Original Down Payment: $1,000 – $3,000+
Absorbed by the depreciation of the stolen vehicle
Rental Car Expense: $250 – $2,000+
A damaged vehicle usually takes an average of 30 days or more to repair
Personal Items Expense: $100 – $1,000+
An often overlooked cost of auto theft- i.e. purse/wallet, laptop, portable DVD, iPod/iPad, etc.
Replacement Vehicle Down Payment: $500 – $3,000+
Typically required for the purchase of new vehicle
Insurance Premium Increase: Varies
Negative Equity: Varies
Unforeseen Damage After Claim is Paid: Varies
____________________________________________
The theft of your vehicle could cost you
$2,000 – $10,000+
Upgrades
Silver, Gold or Platinum Coverages
Video Tutorials
Need help getting things set up? Check out these videos.
More from APEX PROTECT GPS
Member Login
Log into your Apex Account.
Contact Apex Consumer Support
Do you have an issue or need support? Please contact us at support@apexprotectgps.com or use one of our forms to send us a message.
Trusted By The Best
GPS Locating and Monitoring in ANY Vehicle

Would like some assistance, email:
Call: 877-886-5434
Get Help. Ask a question.
Money Back Guarantee
This Money Back Guarantee is provided in exchange for your purchase of the Apex Protect GPS Vehicle Management System and is subject to the following conditions:
Customer must activate their account prior to any vehicle theft;
Customer must immediately report any vehicle theft to the appropriate law enforcement agency; and
Customer must call Apex Protect GPS's Stolen Vehicle Recovery ("SVR") Hotline at 877-886-5434 within twenty-four (24) hours of any vehicle theft.
In the event the SVR Hotline fails to locate the stolen vehicle within twenty-four (24) hours of complying with the foregoing, Apex Protect GPS will reimburse the customer for their cost of the Apex Protect GPS Vehicle Management System, up to $1,000.00. The reimbursement provided for herein shall be the sole and exclusive remedy available under this Money Back Guarantee and failure to comply with any of the foregoing terms and conditions will result in forfeiture of any benefit.